Two girls from different worlds and cultures come together in this deft representation of immigration and multicultural friendship. Escaping the horror of war, persecution and destruction of their Albanian life, Drita and her family emigrate from Kosovo to New York City. Thrown into the school environment of rival groups and peer discrimination, Drita's lack of English, coupled with her refugee status, immediately places her in a vulnerable position. Simultaneously, Maxie, a typical urban African-American girl, struggles to stay out of trouble despite peer influences and is assigned the task of learning about the new girl as part of her social-studies project. Brought together in this way, the two girls overcome barriers of language and custom to resolve issues they both have in common. Alternating chapters in the voice of each girl reveal more similarities than differences. Both are missing mothers; Maxie is still adjusting to the accidental death of hers, while Drita is coping with her mother's debilitating depression since leaving their war-torn country. Loving and level-headed grandmothers act as surrogates. Lombard does a fine job of portraying characters displaying growth through some serious circumstances while maintaining their childlike qualities. (Fiction. 9-12)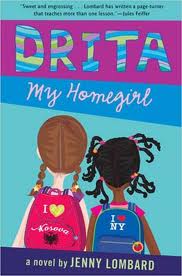 Drita, My Homegirl
By Jenny Lombard
Published by Penguin Group
"More a tale of the power of love than of refugees, this first novel is imbued with the language and customs of Kosova as well as the efforts of a family attempting to regain balance." —Susan Oliver, School Library Journal
"…For her debut novel, Lombard has created two strong and distinct characters, sensitively explores the effects of war on one family, and illuminates the power of friendship to overcome obstacles." —Beverley Fahey, Children's Literature
Find a copy at Amazon | IndieBound | B&N
Description
Drita and her family come to New York as refugees from war-torn Kosovo. Even though she barely speaks English, Drita can't wait to start school and make a new best friend. But her new classmates don't make it easy, teasing her about virtually everything.The worst is Maxie, a tough African-American girl whose sassy attitude hides a painful secret.
When Maxie takes things too far, their teacher assigns Maxie a paper on Drita and her journey to America from Kosovo. Suddenly, Maxie realizes she and Drita have more in common than she thought. And when Drita's mother gets sick, there's only one person who can help—Drita's new homegirl.
A sensitively written story of two worlds coming together, Drita, My Homegirl touchingly explores the effects of war on a family and how friendship sometimes appears in the unlikeliest places
Reviews & Accolades
"…Maxie's attempts to help Drita understand American ways are touching, and Dritas understanding of her friends loss is a testament to the emotional intelligence of children. Drita's story resonates with the bravery of an individual determined to become part of her new country while retaining the love of her homeland. Maxie has the cocky voice of a girl who is trying too hard to disguise her pain. More a tale of the power of love than of refugees, this first novel is imbued with the language and customs of Kosova as well as the efforts of a family attempting to regain balance." —Susan Oliver, School Library Journal
"…Most moving is Drita's surprise about the ethnic mix in her classroom; in Albania a wall separates Serb students from Muslims. The message connecting schoolyard bullying with war is heavy, but the girls' growing friendship and respect for one another is poignant, as is the climax when Maxie presents her report about what Drita left behind." —Hazel Rochman, Booklist
"Lombard's debut novel unfolds through the first-person narratives of two fourth-grade classmates with very different backgrounds…the pair's discovery of their common ground makes for a warm, often moving story. Readers will learn as much about Kosovo as about the remedy to be found in friendship." —Publisher's Weekly
"…For her debut novel, Lombard has created two strong and distinct characters, sensitively explores the effects of war on one family, and illuminates the power of friendship to overcome obstacles." —Beverley Fahey, Children's Literature
"Two girls from different worlds and cultures come together in this deft representation of immigration and multicultural friendship…the two girls overcome barriers of language and custom to resolve issues they both have in common. Alternating chapters in the voice of each girl reveal more similarities than differences…Lombard does a fine job of portraying characters displaying growth through some serious circumstances while maintaining their childlike qualities." —Kirkus Reviews
Groups Represented
Kosovar-Muslim
African-American
Themes
Immigration, multicultural friendship, maternal relationships, family death
Setting
New York City
Author Research
TBA
Engagement Projects
Leave a comment and let us know how you use this title!